This time my Wine & Cake Tasting Event was bigger and better than any of the previous ones. Ten wonderful event professionals and close to forty brides-to-be and event planners came in to share their expertise, showcase their recent work, discuss challenges that couples face when planning their wedding.
As you may agree, the event features one event professional per category to make the event more personal and educational rather than commercial and overwhelming.
This time Amy Kathuria at Me Too Cakes prepared five delicious flavors to sample:
– Yellow Butter Cake w/ Passion fruit buttercream
– Lemon Butter Cake w/ Lemon buttercream and Wild Blueberries
– Carrot Cake w/ Cream Cheese Buttercream
– Chocolate Sour Cream Cake w/ Raspberry Buttercream
– Chocolate Sour Cream Cake w/ Peanut Butter and Salted Caramel Buttercream
Our catering sponsor, Mint Catering – catering with fine dining quality – brought in some fantastic hors d'oeuvres, including goat cheese and caviar mini pancakes, mini caprese, and mini fruit tarts.
What a lovely treat it was — The Chocolate Art Box and their fantastic, individualized chocolate favors printed and delivered right on the spot!
A huge shout out goes to Stacy & Joseph at FLO New York for making our event so much prettier with breathtakingly beautiful and original floral arrangement both, grand and petite.
It was quite an exciting day for me because it was my first time speaking on camera. Penny & Mary event planning company interviewed me for their website. I had so much to say, but it's funny how standing in front of a camera made all my thoughts go blank. I had to make an extra effort to focus!
In the end of the night we raffled off a bunch of really great prizes:
– A mini engagement or portrait photo-session from Tatiana Valerie, Artvesta Photography
– A box of mini-cupcakes and a Me Too Cakes T-shirt from Amy at Me Too Cakes
– A floral arrangement from Flo NY
– A mini tablet from All Seated
– Two sets of Bass Buds earphones with Swarovsky elements from Tartara
– One therapeutic relaxation session from Rev. Luisa Porrata
– A chocolate basket from The Chocolate Art Box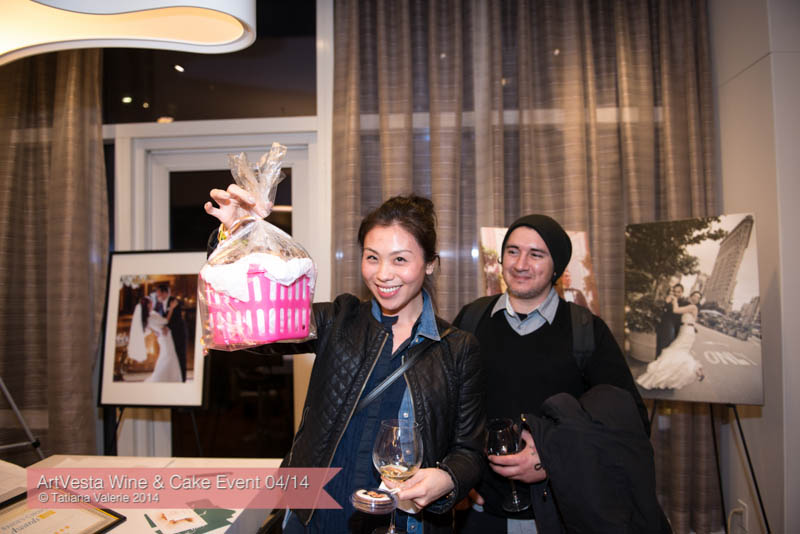 As always, we had a lot of fun at the event. Thanks to everyone who came in!
Thanks to our videographer, Kameron Key, for filming our event!
Artvesta Wine & Cake Tasting Event, April 3rd, 2014 from Tatiana Valerie on Vimeo.
[fancygallery id="13″ album="25″]